In this article, we will share with you:
How to prioritise your telecom network investment
Why you need to use AI and machine learning to optimise your telecom network's ROI
More than ever, telecom operators face technical and commercial constraints on all sides, trying to build the best network at lower costs. As argued by EY, "5G will ignite the next wave of the telecommunications industry, yet a smarter approach to CapEx planning will be vital." AI and machine learning (ML) have become key to planning telecom network investments. Riaktr has developed a 5-step methodology for telecom operators to optimise their network investment strategy and ROI. This approach includes listing, profiling, modelling, scoring, and selecting (see the illustration below). This journey has proven to be successful in both mobile and fixed technologies with 10 to 20% CapEx efficiency gains.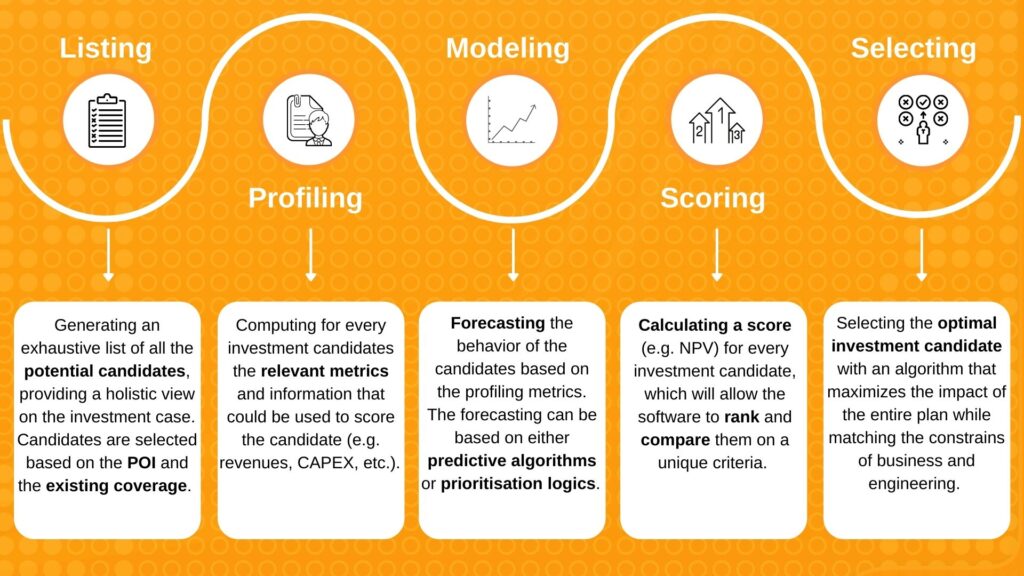 A good listing and profiling are the 2 first steps towards a smarter telecom network investment
The process starts, for telecom operators, by listing all the potential candidates for investment. This is usually a cumbersome step for most telecom operators. Indeed, they often do not have the right tools to gather all the information at a granular level. This generally forces them to only consider a few candidates and, eventually, to use their gut feeling. Using advanced geo-tools such as SciPy, DBScan, and Geo Pandas, Smart Capex provides a holistic view of all potential candidates. These assets help to shortlist and exclude non-relevant candidates while providing a holistic view of potential and relevant investments.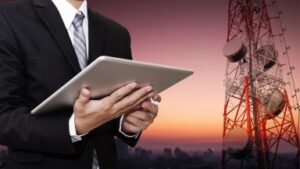 The second step involves profiling the list of shortlisted candidates compiled in step one. By combining multiple data sources into one view, the tool computes the relevant metrics used later on for scoring. It integrates different internal data sources such as network (CDRs, cell performance, site coverage, etc.) or CRM (existing subscriber revenues, product details, and TAC list). Finally, it incorporates external data points such as population, competitor network coverage and/or capacity, and business location. This allows decision-makers to vet the financial and technical metrics of each candidate without sifting through various datasets.
Using AI and machine learning in the last 3 steps to optimise telecom network ROI
The next step involves the modelling and valuation of each candidate. Based on profiling, Smart Capex leverages several predictive algorithms to forecast the financial potential of each site over the next several years. The tool predicts, for instance, subscribers' movements through technologies, net ads and churn, and customer movement for each site. These computations, done first for existing sites, are then extended to the green field candidates.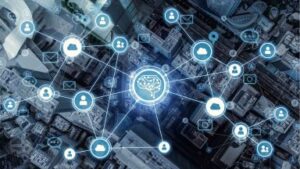 The fourth step consists of assigning a score (or a Net Present Value (NPV)) to each candidate. While the main objective is usually linked to a financial goal, some investments cannot be directly linked to a financial decision. That's why the algorithm considers different drivers for scoring like finance (ROI), strategy, regulation, and network maintenance. Based on this scoring, Smart Capex will then define a final rank for all investment candidates.
However, assigning a score alone may not always lead to the best practical choices. Therefore, the solution includes a fifth and last step: optimisation under constraints. For example, operators may want to create clusters of investments to maximise both their profit and the customer experience at the same time. To do so, the algorithm creates clusters around the best candidates, making it easy to iterate until the maximal ROI is reached.
About Smart Capex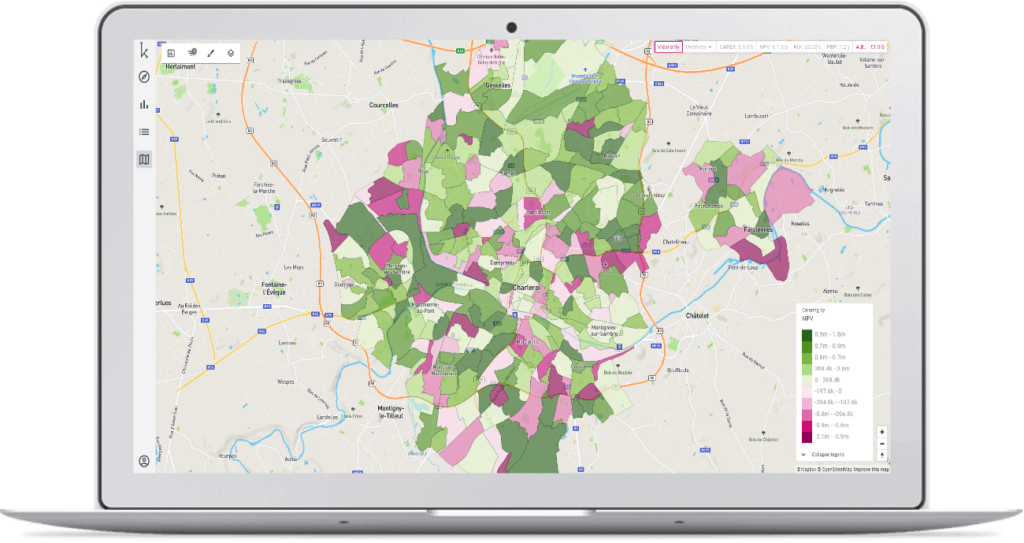 Smart Capex helps telecom operators select the optimal network investment candidates that maximise the impact of the entire plan while matching the operator's commercial, financial and technical constraints. The CapEx efficiency gained can then be translated into overall budget savings or reallocated to other projects. 
Enjoyed this article? Therefore, you might also enjoy: