MWC 
March 2019
Each year, the MWC (Mobile World Congress) gathers the best of tech in Barcelona for four days. This year's theme, "Intelligent Connectivity", was reflected everywhere: from entry doors equipped with biometric access technology to exhibitors stands.  The fair is the occasion to address boiling topics such as the dispute between Huawei and the US, the announcement of new product releases namely by Sony and Samsung, and of course close deals such as €1 billion joint venture between BWM and Daimler. Also, the power of 5G was demonstrated by a live concert and the first surgery using this technology.
Here are some hot topics from the last day at MWC being discussed:
"We don't do bad things"- Huawei's rotating Chairman
Rotating Chairman Guo Ping stirred conversation as he took a stand to defend the company from what he called "unfounded allegations" from the US. He flatly rejected claims from the U.S. government that Huawei had broken intellectual property rules or was involved in espionage. Guo Ping spoke during a debate on cyber security against the backdrop of mounting pressure from the U.S. on Western governments not to use the Chinese telecomms company's technology in the construction of their upcoming 5G networks "Let me say this as clear as possible: Huawei has not and will never plant backdoors. And we will never allow anyone to do so in our equipment. We take this responsibility very seriously," Guo said.
Global Game changer for ex rivals
The German automakers, typically rivals, made the announcement to enter the growing market for urban mobility together Friday in Berlin. They described the partnership as a "global game changer" that could significantly better position the two against the rise of upstarts such as Uber. BMW Group and Daimler AG have announced a €1 billion partnership in jointly developing car-sharing, ride-sharing, parking, charging and multimodal transport services.
"Mobile reputation is just ahead of the tobacco industry" – Vodafone's newly appointed CEO
Group CEP Nick Read blamed the deterioration of the Mobile reputation in Europe on the service operators. "Our reputation with consumers is just ahead of the tobacco industry, and in Europe the operators only have themselves to blame for the activities of the regulators given the protectionist approach that has been adopted" he said. He explained: "The mobile telecoms industry is the enabler for the digital transformation, and we're operating in the 'sectors of sectors'. He also stressed the lack of cooperation between operators and how "we've been opaque with our customers, and we need to win back their trust by adopting a much more transparent approach".
"Data has no value if it's not available to third parties"- Keynote speaker at Cashing in on Industrial Data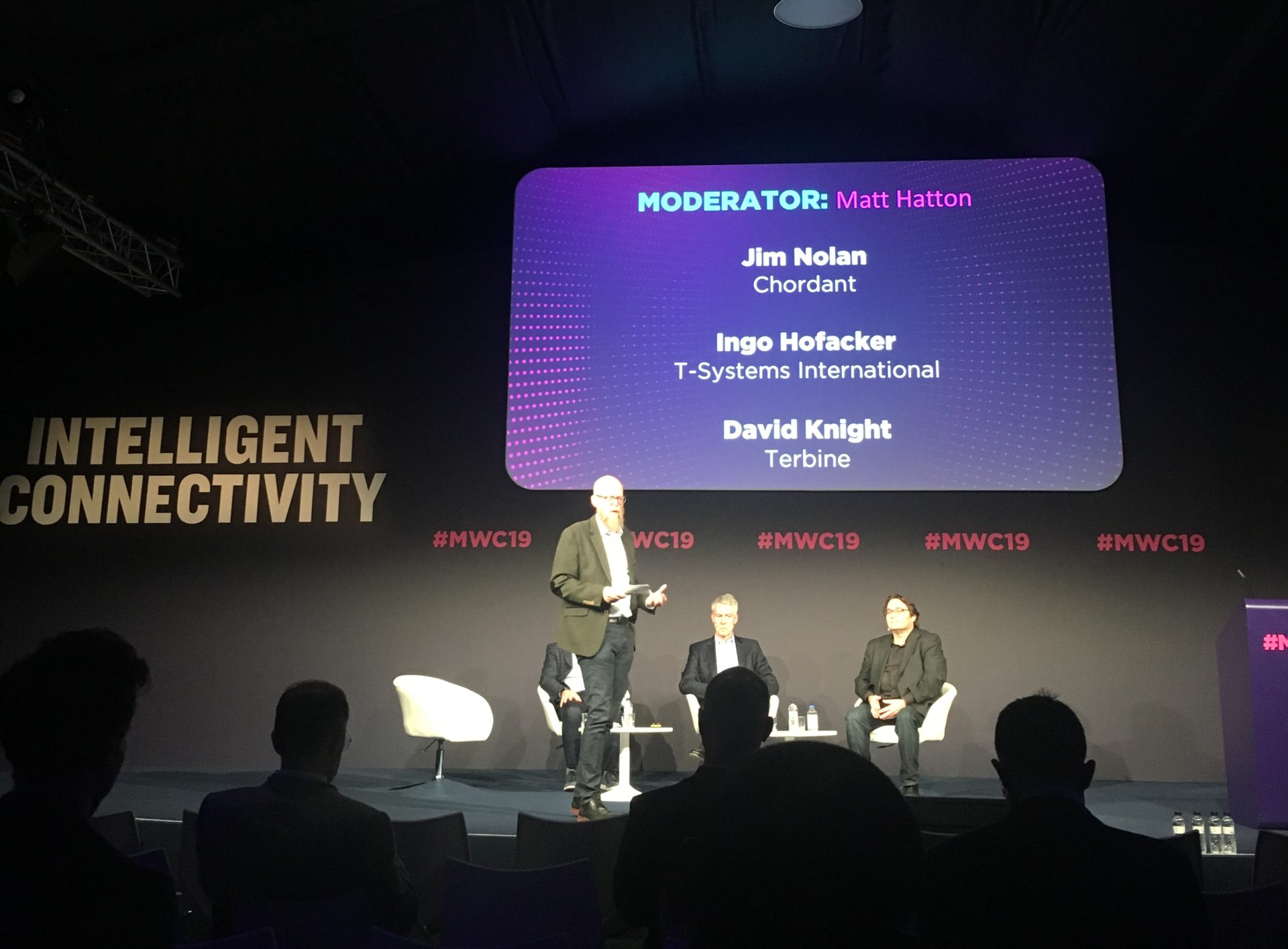 The concept of data hub and data exchange were the main topic of the conversation focusing on the dilemma of: How do you put in place the capabilities to share data and have a central reporting system? Having information for your own use is good, but being able to derive value from sharing data beyond the company, as well as the as-yet unexplored opportunities for data monetization, is even better. Chordant's CEO Jim Nolan, T-systems' SVP Ingo Hofacker and Terbine's CEO  David Kight all stressed the need to make data available to third parties and "push for a proper IoT that deals with billing, data exchange, and facilitation of the sharing of this data".
Doctor Performs first 5G surgery
This year's MWC had a strong focus on healthcare and how 5G will impact the industry. Next-generation wireless technology is taking the medical world a crucial step closer to robots performing remotely-controlled surgery. "This is a first step to achieve our dream, which is to make remote operations in the near future," said Doctor Antonio de Lacy,  right after performing a real-time guidance via a 5G video link from MWC to a surgical team which operated on a patient with an intestinal tumour several kilometers away at a Barcelona Hospital Clinic.
Vodafone and Ericsson used 5G to perform a live concert in in remote locations
A perfectly coordinated concert from two different locations was live during the MWC. Five band members were located at the Ericsson stand while the remaining three performed from the Vodafone stand. 5G was used to transmit each note without the audience noticing the difference.
Humans and connectivity
Under its theme 'Intelligent Connectivity', the MWC demonstrated the interaction between humans and cutting edge technology. Likewise, Riaktr's motto is to bring analytics closer to people, break silos and provide actionable insights to users. Giving some attention on the fact that there are humans behind the data resonated strongly with our vision as an analytics company.